Note: Like any alpha feature, Pivot SQL should be considered experimental and subject to change or removal at any time. Alpha features are provided "as is," and are not subject to Imply's SLAs.
Measures and Managing data cubes describe how Plywood can be used to create custom filters and measures in Pivot data cubes. While Plywood is a powerful and flexible framework for defining data interactions, it can present a learning curve to those who are not familiar with it.
Imply 3.4 introduces Pivot SQL as an alternative to Plywood, giving users a well known, standards-based syntax. With Pivot SQL, users can express dimensions and measures in Pivot using SQL expressions.
Any SQL function supported in Druid SQL is available for use in Pivot SQL expressions.
Enabling Pivot SQL
By default, the Pivot SQL feature is disabled. You can enable Pivot SQL from the Advanced tab in Pivot Settings by enabling experimental features.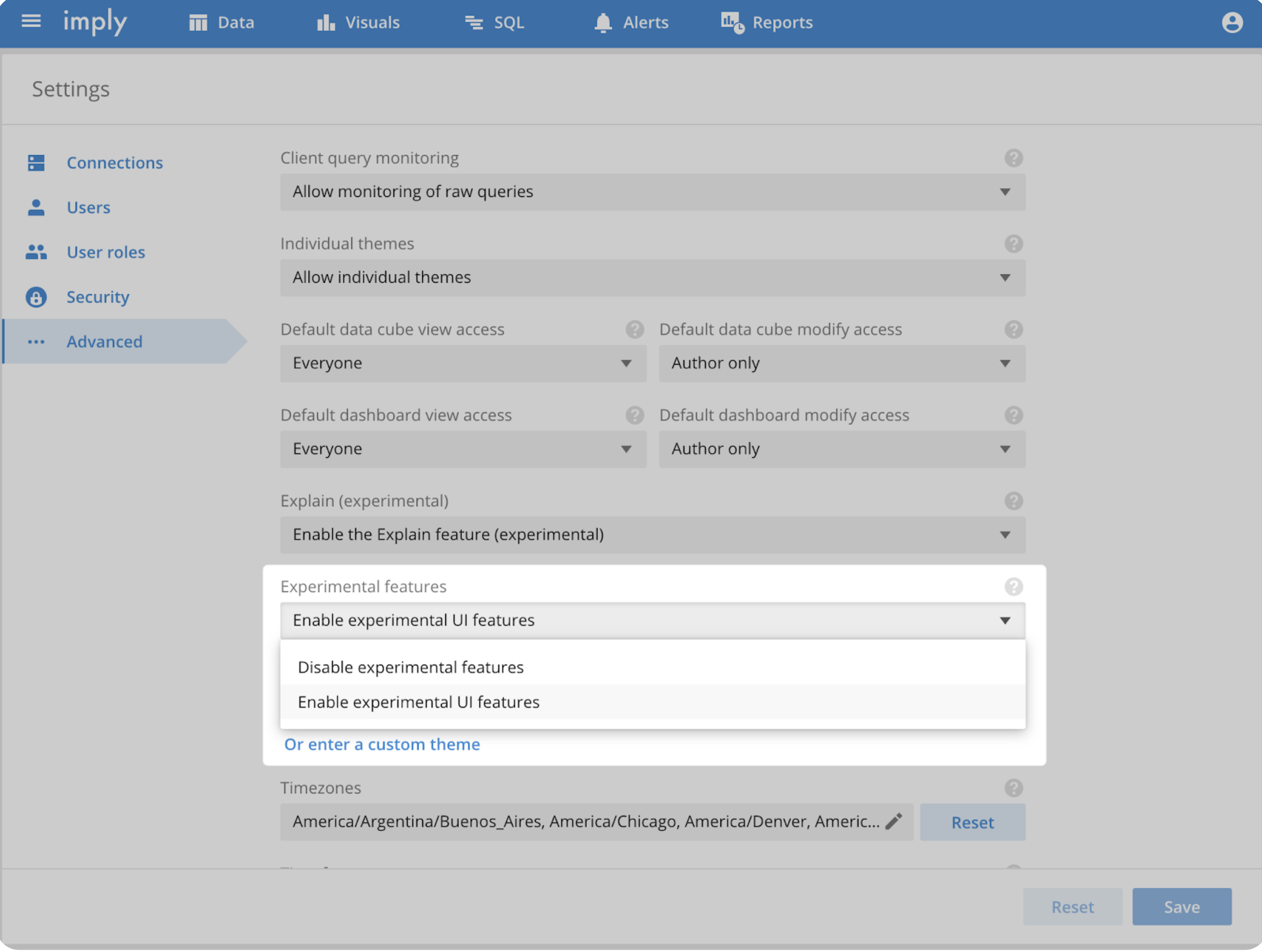 Working with Pivot SQL
Data cubes must be configured as SQL data cubes to use Pivot SQL features.
Creating SQL data cubes
With experimental features enabled, when creating data cubes, Pivot users can choose to make the data cube a SQL data cube:
SQL data cubes offer auto-fill and introspection from within SQL expression composition fields. As a fallback, Plywood expressions are available in SQL data cubes as well.
Converting existing data cubes to SQL
In certain circumstances, users can convert existing data cubes to SQL data cubes from the data cube's General settings:
Before converting data cubes to SQL, note that:
Data cubes that use advanced options like

altDataSource cannot be converted

Dimensions and measures that can't be converted to SQL will remain in Plywood format

This operation can't be reversed and may have unexpected consequences;

Imply recommends first duplicating the data cube before converting it to SQL.
Composing SQL expressions
Once a data cube is enabled for Pivot SQL, users can use SQL expressions to define custom dimension and measure formulas, such as the following:
The syntax for querying columns follows the t."columnName" format. Inline help in the data cube UI provides troubleshooting information in the event of syntax errors.
See the Druid SQL documentation for the complete list of supported SQL functions.
Note the following points:
Pivot SQL supports subset filters, filter tokens, PII masks

Subset filters can be expressed as SQL; SQL support for filter tokens will be available in the future

Data cube APIs support both SQL and Plywood on SQL data cubes;

SQL data cubes can be created using the property:

queryMode: "sql"

All existing security constraints on user data access applies to SQL queries as well.
Also see the following limitations.
Limitations
The following limitation apply to the use of SQL in Pivot data cubes:
JOINs are not currently supported

Subqueries are not currently supported

altDataSource

, aka native Druid UNION queries, are not currently supported

Support for lookups is provided only via the

LOOKUP

Druid SQL function

MilliSecondsInInterval

magic constant for

rate calculations

is not currently supported

Resplit measures

, e.g., daily active users, must still be expressed using Plywood

Druid functions requiring extensions, e.g. STDDEV

, aren't available unless the extension is loaded.